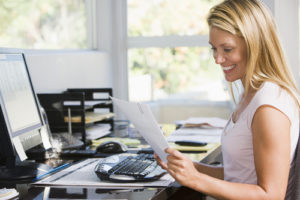 Going to networking events takes time, but the rewards of meeting new people include learning about great "inside information" for free. At a recent Around the Horn session, a participant received heaps of good advice from experts in their fields. 
Question: What is the best way for a solo practitioner to scale up? 
More than one person suggested delegating: look for activities that you'd be comfortable giving to a junior person. Your clients are not going to feel like you are pulling a bait and switch with them if the only things you switch are answering the phones and photocopying. Save yourself for the tasks that require your expertise, and be the face of the business instead.
I really enjoyed the next commenter's suggestion: engage a work-at-home mom (also known around the web as a WAHM). Running a household while caring for kids is a lot like running a complex corporation. In fact, the whole room agreed that WAHMs, especially those re-entering the traditional workforce, are eager to seek out new work and advance their newly relaunched careers.  
By chance, we had within our ranks an attorney who does legal writing. She has a network of freelance attorneys available for part-time legal help—many of them WAHMs.
Several people in attendance (including me) suggested using virtual assistants. Virtual assistants generally work on several different people's projects, which is why they are so much more affordable than a dedicated, "brick-and-mortar" assistant. I use mine to do all of the invitations to all of the Network! Network! events as well as contact sheets and any other special project that I cannot—or choose not—to do.
I was particularly interested in the topic because my own business is growing, and the writing on the wall seems to be saying that much of my time will be devoted to managing a business that does networking—as opposed to managing a network. I need to decide whether or not I want to continue doing what I love to do, or whether I want to manage other people who are doing what I love to do.
Well, that's my dilemma. What's yours?

Dave Bresler
President of Network!Network!
Phone: 914-924-1297
Contact us using this online form.
https://www.networknetwork.net/wp-content/uploads/2022/04/network-network-logo.png
0
0
dbresler
https://www.networknetwork.net/wp-content/uploads/2022/04/network-network-logo.png
dbresler
2016-08-15 17:34:19
2016-08-15 17:35:24
Scaling Up for the Solo Practitioner