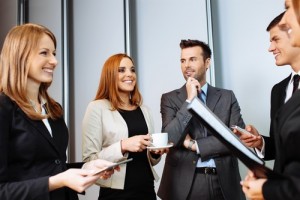 When should you walk away from potential business?
This was the question posed during a recent Around the Horn session. The answers were as varied as the members of the group:
A sales trainer believed that time is critical. If you believe a potential customer is not ready, be upfront with them, then walk away. 
A consultant said an account is only an account when it pays. Ask the prospect and believe them when they say they're bad customers. If your culture and style don't fit with the client, don't do business together. Be transparent – don't let secrets get in the way.

The way you do anything is the way you do everything

. 
An investment advisor said not to do business with people who won't comply, which makes perfect sense. 
A graphic and web designer said to identify your ideal client, stay near that ideal, then understand the warning signs that show they're not ideal. 
Look for a qualifier – ask what the prospect's decision criteria is. If they don't have any criteria, even if they have a budget, you don't know if you'll be paid because you don't know what you have to do to satisfy their needs. 
To qualify a prospect, you want to find out if: 
They have a budget and the money is actually allocated.

They have a timeline.

You are dealing with a decision maker, not just someone who's going to recommend you.

They have an approved project.
People will tell you who they are. During an interview with a prospect, follow your gut – if you think someone's the wrong number, 99 times out of 100, they are.

Dave Bresler
President of Network!Network!
Phone: 914-924-1297
Contact us using this online form.
https://www.networknetwork.net/wp-content/uploads/2022/04/network-network-logo.png
0
0
dbresler
https://www.networknetwork.net/wp-content/uploads/2022/04/network-network-logo.png
dbresler
2016-01-11 19:37:39
2016-02-10 15:43:41
Knowing When to Walk Away